We have two locations - Stilwell KS and Belton MO. Feel free to visit whichever orchard
is more convenient for you. Our Stilwell orchard is located south of Overland Park
approximately 3 blocks from 199th & Metcalf, which is the main intersection in Stilwell KS.
Our Stilwell home orchard is pretty small and has only about 30 peach trees.
Stilwell Orchard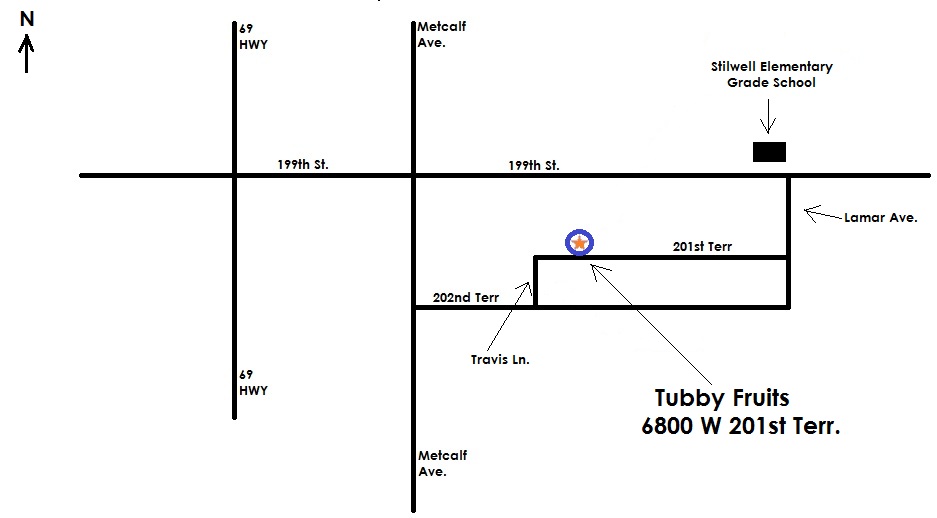 Please note if you Google our address, it comes up under Bucyrus Kansas, not Stilwell,
even though we are located just a few blocks from the Stilwell Elementary school.
Stilwell Orchard Address:
6800 W. 201st Terrace
Bucyrus KS 66013
Directions from Overland Park to Stilwell orchard:
Take 69 Hwy south to the 199th St. exit. After exiting off of 69 Hwy, take a left on 199th St. Go east on 199th St. for 1/2 mile to the intersection of 199th and Metcalf, which is a 4 way stop. Continue east on 199th St. for another 1/2 mile to Lamar Ave. Turn right on Lamar Ave. (across from Stilwell Elementary). Travel south on Lamar Ave. for 1/2 mile to 201st Terrace. Take a right (west) on 201st Terrace. Travel approx. 1/2 mile on 201st Terrace to Tubby Fruits. Tubby Fruits is on the right hand side (north side) of 201st Terrace. It's an ivory colored two-story house. Come up on the front deck and ring the doorbell.
BELTON/CLEVELAND ORCHARD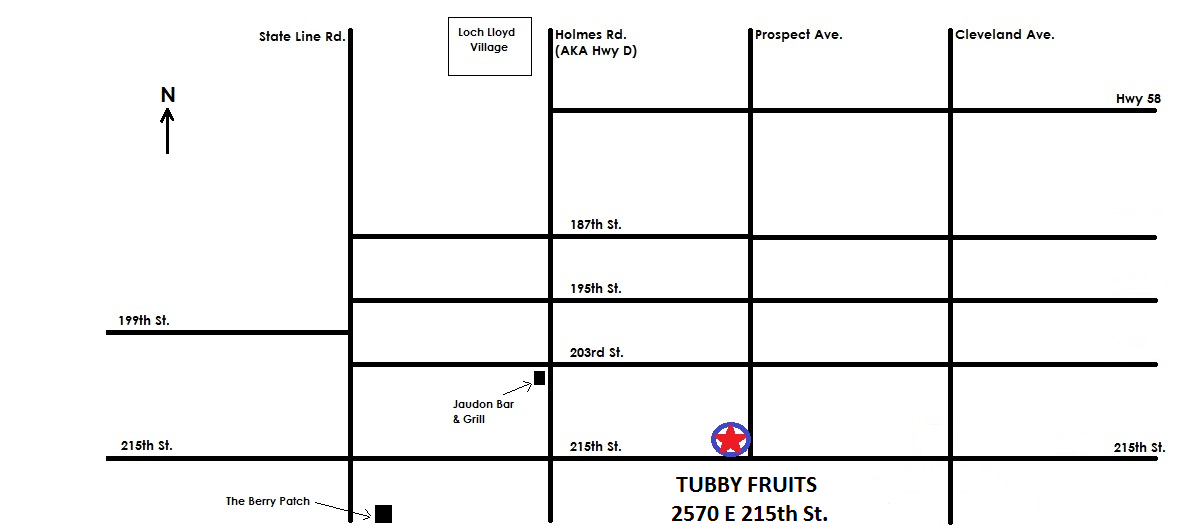 Our Belton/Cleveland MO orchard is located at the corner of 215th and Prospect Ave.
It is about six miles south of Loch Lloyd.
Please note sometimes Google Maps shows the location of our Belton/Cleveland orchard farther

south than it really is. The orchard is located on the northwest corner of 215th and Prospect.

Belton/Cleveland Orchard Address:

2570 E 215th St.

Cleveland MO 64734
Directions from KCMO to Belton/Cleveland orchard:
Take Holmes Rd. south out of KC. Go past 150 Hwy and past 58 Hwy to 215th st. Go left (east) about 3/4 of a mile. Orchard is on the left. Come through the gate right off of 215th.

HOURS:
Please give me a call or text before you head out to either orchard (913-851-7414) so we can make sure someone is there to fill your order. I also update our Facebook page with our hours for the day at the orchard when we have peaches, blackberries and tomatoes available.

Please check our Facebook page below for daily ripening information and daily hours. You DO NOT have to have a Facebook account to access our Facebook page linked below. Sometimes we are temporarily sold out of fruit at the home orchard, or the Belton orchard, so a quick check of our Facebook page could potentially save a wasted trip, in case we are temporarily sold out of fresh peaches, blackberries or tomatoes. Just click on the white "f" in the blue box below.